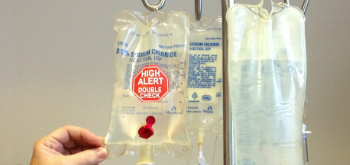 Unnecessary problems for patient during chemotherapy
A woman who suffered hyponatraemia when the sodium in her blood dropped to a dangerously low level despite regular monitoring at hospital has recovered a significant award of compensation with the assistance of M R Law.
She was originally diagnosed as suffering from multiple myeloma, being a form of blood cancer. She required chemotherapy; however, she could only have that treatment if her sodium levels remained above a certain threshold.
After undergoing a number of chemotherapy sessions, the hospital was aware that her sodium level had dropped significantly yet they failed to pass on the results from one department to another and they continued with the treatment.
Within a short period, she became seriously dehydrated and she began to suffer seizures. The woman was admitted to hospital as an emergency patient where she spent over six weeks recovering from her symptoms, despite which she was left with reduced mobility and other ongoing problems due to the hyponatraemia.
The mistakes made by the hospital were entirely avoidable and there were severe ongoing consequences for our client.

Robert Barker
Robert Barker, head of the Medical Negligence team at M R Law who dealt with the case comments:
"This was a difficult claim for our client to bring. She recognised that she needed chemotherapy and she was extremely grateful for the treatment provided. However, the mistakes made by the hospital were entirely avoidable and there were severe ongoing consequences for our client.
The hospital was aware her sodium levels had dropped well below the threshold at which they should have suspended her treatment. At that point, it was a reasonably straightforward procedure to inform our client and to take steps to increase her sodium levels before resuming the chemotherapy.
Instead, they failed to notify our client and continued with her treatment as a result of which she suffered severe consequences including possible brain damage. Those consequences will continue to affect her and they have led to her requiring additional care and assistance.
I am pleased we were able to achieve an excellent outcome for our client in these difficult circumstances as the hospital accepted there were avoidable errors."
If you have suffered complications arising during hospital treatment, please contact our specialist medical negligence team to speak directly to a qualified and experienced lawyer.