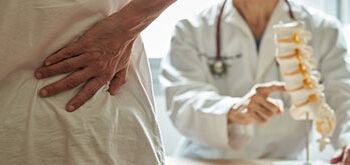 Patient suffers foot drop following spinal surgery
M R Law Solicitors have successfully recovered damages on behalf of a man who suffered nerve damage during an operation on his spine.
The patient had undergone spinal fusion surgery but immediately following the operation, he was in considerable discomfort with a sharp shooting pain down his leg. Although he complained to the doctors of constant pain, they discharged him from hospital. Thereafter, his severe discomfort continued and he was unable to lift his left foot when walking.
After attending hospital for follow-up appointments, it then took over two months to diagnose that a screw used during the spinal fusion surgery had passed through a nerve root in his vertebrae.
Despite undergoing further surgery with another spinal expert who repositioned the screw, the patient has gone to suffer a permanent left foot drop making it difficult for him to walk. He thereafter pursued a claim for a breach of duty of care against the original spinal surgeon for the avoidable errors made during his treatment.
Robert Barker, head of the Medical Negligence team at M R Law who dealt with the case comments:
"For a number of reasons, this was a complicated case to pursue and there was no guarantee our client would be able to prove that there was a breach of duty of care. One of the main risks of spinal surgery is nerve damage and there is always a possibility of a patient experiencing foot drop following spinal surgery.
Despite those risks, we were able to demonstrate that the care our client received was not reasonable. We alleged the original surgeon had failed properly to warn our client of the risks of surgery and there was then an unnecessary delay in him receiving further treatment following the operation. Had he received reasonable follow-up care it may have improved his long-term outcome.
We were able to negotiate a settlement for our client taking into account the difficulties of bringing these claims whilst ensuring he was able to recover reasonable damages for the long-term problems he will experience.
I am pleased we were able to achieve this positive outcome for our client."
If you have suffered complications arising during or after surgery, please contact our specialist medical negligence team to speak directly to a qualified and experienced lawyer.