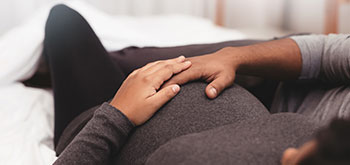 Stillbirth of baby due to hospital negligence
A couple whose baby was stillborn due to avoidable errors during the mother's pregnancy and labour have succeeded with their claim for an apology and damages from the responsible hospital.
The pregnant mother was considered high risk due to pre-existing health issues. A recommendation was made for her baby to be induced prior to the estimated due date. However, the maternity unit at her local hospital failed to put in place a suitable plan and her pregnancy continued to full term.
On the estimated due date the mother began to experience problems and she went to the maternity unit where it was likely her baby was still alive on arrival at the hospital. However, there was then an unnecessary delay before commencing labour and during further monitoring, it was determined their son had sadly died. >
Robert Barker, head of the Medical Negligence team at M R Law who dealt with the case comments:
"This was an extremely sad set of circumstances for the parents whereby their son died due to a combination of errors on the part of the hospital.>
It had been a difficult pregnancy for the mother due to other health issues. Despite that, she was assured her baby would not be affected although there was a recommendation that her labour be induced to avoid potential problems. Even after the mother raised this with the maternity unit, seemingly no plan was put into place and avoidable complications then ensued.
After seeking the views of an independent obstetrician, we were able to demonstrate that the care provided to our client during her pregnancy and then during her labour fell below a reasonable standard. Had she been provided with appropriate care, her son would have survived.
To the credit of the hospital, they accepted early on in the process that there had been a breach of duty of care. They made a full apology to our clients and offered a reasonable award of damages that our clients accepted, although no amount of money would compensate them for the trauma.
I am pleased we were able to achieve this positive outcome for our clients and to reduce the risk of something similar happening to others." >
If you have suffered complications during pregnancy or labour, please contact our specialist medical negligence team to speak directly to a qualified and experienced lawyer.