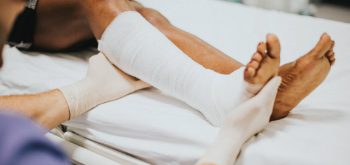 Patient suffers severe burns during medical treatment
M R Law has recovered damages for a woman who experienced severe burns to her feet when
undergoing cryotherapy treatment.
She had visited a local health centre specialising in treatments such as chiropody and podiatry where
she was advised that a number of verrucas on her foot could be treated using cryotherapy. This
involved freezing the verrucas with liquid nitrogen, deadening the skin and the verrucas until they
fell off, thereby resolving her ongoing problems.
After undergoing some preliminary treatment, she had the cryotherapy but when the liquid nitrogen
was applied to the verrucas, it began spilling over the remainder of her foot instantly burning the
healthy skin.
The treatment concluded but she remained in considerable pain. That pain then intensified over the
following weeks when the burnt skin on her foot began to blister causing difficulties when walking.
Eventually, she attended hospital where they drained the blisters and bandaged her foot. It then
took a number of months for her symptoms to improve.
I'm pleased we
were able to achieve a good settlement to take account of the considerable pain she experienced.
Tracy Brimelow, part of the Medical Negligence team at M R Law who dealt with the case
comments:
"This was a prime example demonstrating the need to perform all medical treatment to the highest
possible standard of care, even ones where the apparent risks appear minimal.
Our client sought treatment for verrucas that were causing her ongoing discomfort. She went to a
local health centre where there is the same responsibility to provide appropriate treatment as there
would with a GP or at hospital. They owe the same level of care to their patients.
As part of our client's treatment, they were applying potentially dangerous substances to a part of
her body, so those treating her should have ensured there was no possibility of that substance
spilling over the rest of her foot and causing unnecessary harm.
Sadly, our client suffered extreme burns to her foot that were entirely avoidable. I am pleased we
were able to achieve a good settlement on her behalf to take account of the considerable pain and
discomfort she experienced."
If you have suffered complications arising from any form of medical or cosmetic treatment, please contact our specialist medical negligence team to speak directly to a qualified and experienced lawyer.